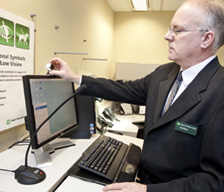 Brad Boyd demonstrates the assistive technology available to support TD employees with disabilities.
People With Disabilities
We continue to strive to build capability and comfort among people managers in hiring and supporting people with disabilities. We have done solid work in this area and continue to reinforce our message at the local departmental level so that it is consistently integrated into our day-to-day business.
Representation of Persons with
Disabilities at TD (%)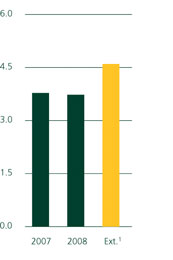 TD Diversity Inclusiveness Survey (% points)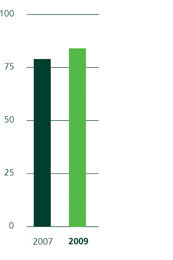 Programs and initiatives for 2009:
TD has an Assistive Technology Team to help implement accessibility standards across the organization and champion new assistive technology solutions for employees and customers.
TD works with recruitment organizations that help people with disabilities find employment, such as Employabilities in Edmonton and the Job Opportunity Information Network in Toronto. In the U.S., we have a long-term relationship with Coastal Enterprises.
A new recruitment site was launched in 2009, and we included accessible videos for potential employees. They can view videos with accompanied ASL/LSQ (French) interpretation. This is a first in Canadian banking.
During Access Awareness Week in June 2009, employees were asked how TD could become more accessible for people with disabilities. The week started with Tim Hockey, Group Head Canadian Banking, spending a morning in a wheelchair to learn about accessibility barriers first-hand, as part of Muscular Dystrophy Canada's Chair Aware program, and culminated in an employee forum in Toronto on June 4. The forum provided an opportunity for more than 175 employees and executives to celebrate our progress in building a more i