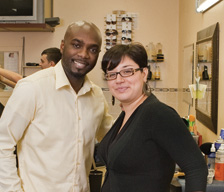 Customers
Legendary customer service, in good times and bad
Our goal is to deliver a legendary customer experience each and every day, from coast to coast to coast, on every single transaction and discussion.

TD Story
Keeping customers in their homes
MORE

TD Case Study
TD Helps
MORE
---
Our Approach
TD has long been synonymous with legendary service and convenience. It's our strategic advantage. Over the years we have learned that a satisfied customer is likely to stay with us, to expand the use of our products and services and to refer TD to others. We also know that delivering a legendary customer experience drives shareholder value.
At TD we work hard to win and keep our customers' loyalty by:
being there when they need us;
listening to their needs and developing appropriate solutions;
protecting their assets and their privacy;
giving them adequate product information; and
providing products, services and facilities to serve a diverse customer base.
And when, despite our best intentions, mistakes happen, we make every effort to recover with flair.