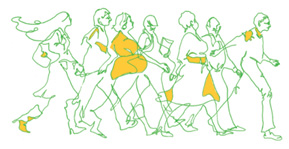 Leadership and Training
Diversity of thought is a competitive advantage in a business environment that is constantly changing and becoming more complex. We are proud of the progress we have made, especially in the area of diversity training. Providing a safe environment for employees to discuss their personal background and perceptions requires a significant investment in on-site workshops and skilled facilitation.
We have a wide range of workplace diversity programs. Here is a summary of activities that took place in 2009:
Mentoring

Mentoring tools and programs support all employees as they build knowledge, skills and capabilities that will help them succeed. In 2006, we piloted an innovative group mentoring program that has since been run for approximately 400 women and 120 members of visible minority groups. We identified women at critical stages in their career and paired them with senior executives to facilitate discussions about career planning and development. We're delighted with the success of this program and are eager to apply a similar mentoring model to other areas of our employee population.

Diversity Training

Our one-day Embracing Diversity workshop helps our people managers learn to value diversity, recognize personal biases and stereotypes, and apply inclusive practices. By the end of 2009, more than 6,000 people had completed the training. This represents over 90% of all managers in Canada.
More than 400 TD executives completed Build for the Future, a leadership development program that includes diversity as a key component. We spend time in the program increasing awareness and highlighting the complexities of diversity from a talent management perspective.

Employee Consultations

In 2009, TD's Employee Council for Employment Equity provided input to the development of the new diversity intranet site and discussed results from the Diversity Inclusiveness Survey.
Our Employees With Disabilities Advisory Group participated in testing new assistive technologies and design features.
We conducted multiple employee interviews and 30 focus groups in Canada and two focus groups in the U.S.

Accommodation

There is a dedicated fund for deploying tools and facilities that employees need to do their jobs, such as screen readers and ergonomic desks.