Receiving & Making Payments
Manage your cash flow by enabling your customers to pay the way they want, process and
collect payments quickly, and pay bills and invoices efficiently.
Receiving Payments
Offer your customers a range of ways to pay:
Accept Interac e-Transfer®
Set up Pre-authorized Debit
Set up your business as a payee on Online Bill Payment
Deposit cheques electronically
Making Payments
Pay vendors, employees, and government taxes to optimize your cash flow with:
Interac e-Transfer® payments
Direct deposit
Wire transfers, and more
Payment Processing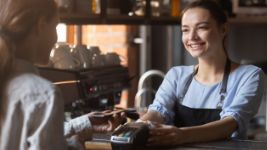 Get the advice and support you need to run your retail, restaurant, auto, professional services, or personal care business with our range of wireless, mobile, and online point-of-sale (POS) solutions.
The INTERAC logo and INTERAC e-Transfer are registered Trade-marks of Interac Corp. Used under licence.
Interac Flash®, the Interac logo and Interac e-Transfer are registered trade-marks of Interac Corp. Used under license.
Back to top