Consider TD Mutual Funds for your financial goals
TD Mutual Funds include a select lineup of mutual fund portfolios and single fund solutions. A Mutual Fund Representative will work with you to find the investment that is suitable for you.
A collection of Mutual funds diversified across asset classes, sectors and geographies designed to help create more stable returns.
Professionally managed mutual funds, positioned to help maximize potential returns and manage market fluctuations, allowing you to invest with confidence.
These portfolios allow you to indirectly invest in a range of domestic and foreign securities in a more convenient and affordable way.
---
A collection of TD Mutual Funds developed to manage risk, combining the high return potential of equities with stability of fixed income investments.
All-in-one, asset allocation portfolios aimed at increasing the longevity of your savings.
A globally diversified mix of investments actively managed by TD Asset Management Inc.
---
TD Mutual Funds is a family of single fund solutions managed by TD Asset Management Inc..
Allow you to indirectly invest in stocks, bonds and/or short-term debt
You can buy and manage your TD Mutual Funds through EasyWeb, TD's digital banking platform
---
We can help you invest for the future
Articles and tips to help you get started
Looking for investment advice?
Ready to invest? We can help!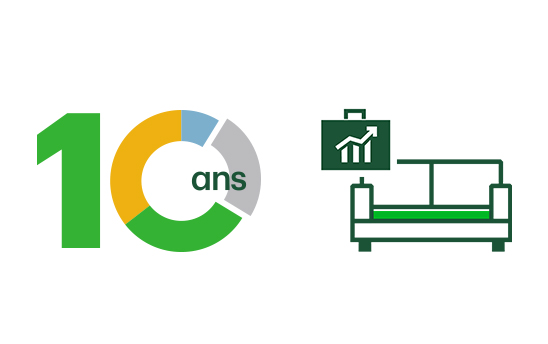 Fonds communs de placement couvrant plusieurs catégories d'actifs, secteurs et régions géographiques pour favoriser un rendement plus stable.
Les fonds communs de placement sont gérés par des professionnels, positionnés de manière à maximiser les rendements potentiels et à gérer les fluctuations du marché, ce qui vous permet d'investir en toute confiance.
Ces portefeuilles vous permettent d'investir indirectement dans une gamme de titres nationaux et étrangers d'une manière plus pratique et plus abordable.
---
Fonds Mutuels TD conçus pour gérer le risque en alliant le potentiel de rendement des actions à la stabilité des titres à revenu fixe.
Portefeuilles de répartition des actifs tout-en-un visant à accroître la longévité de votre épargne.
Combinaison de placements diversifiés à l'échelle mondiale, gérés activement par Gestion de Placements TD Inc.
---
Fonds Mutuels TD est une famille de solutions de fonds uniques gérés par Gestion de Placements TD Inc.
Permet d'investir indirectement dans des actions, des obligations ou des titres de créance à court terme
Possibilité d'acheter et de gérer vos Fonds Mutuels TD dans BanqueNet, la plateforme de services bancaires numériques de la TD
---