Scope and Boundaries
The scope of this report encompasses all of TD's wholly owned operations, including TD Bank and Wholesale Banking in the U.S., TD Securities and TD Waterhouse in Europe and TD Securities in Asia-Pacific.
Throughout this report, "TD" refers to TD Bank Financial Group. "TD Bank" refers to TD Bank, America's Most Convenient Bank. All currency is in Canadian dollars unless otherwise stated.
This Corporate Responsibility Report reflects the achievements and challenges encountered for the calendar year 2009. TD reports on its corporate responsibility on an annual basis in accordance with the Public Accountability Statement as required by the Bank Act, under Canadian federal law.
The TD 2009 Corporate Responsibility Report continues to build on the information provided in the 2008 report and will further address our commitment to corporate social responsibility. TD has updated its website presence for the full 2009 corporate responsibility report by creating a more user-friendly, visually enhanced site. TD has also produced a specific business summary report which defines material concepts to within corporate responsibility area. TD publishes an annual corporate responsibility "snapshot" which is available for our customers and employees. The "snapshot" covers specific highlights which are relevant to both key stakeholders.
The scope of this report remains consistent with our 2008 reporting cycle. Although the purchase of Commerce Bancorp occurred in 2007, much of 2009 has been spent completing the integration of our U.S. retail bank to form TD Bank, America's Most Convenient Bank. As TD progresses with program integration there are still gaps in our reporting style and metrics. We expect that this will be resolved for the next annual corporate responsibility report.
WHERE WE OPERATE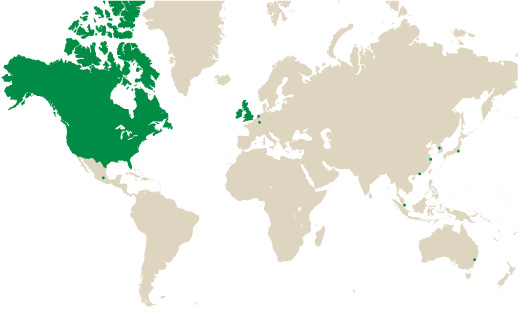 AMERICAS
CANADA
USA
Mexico City, Mexico
EUROPE
Amsterdam, The Netherlands
Dublin, Ireland
Luxembourg
United Kingdom
ASIA-PACIFIC
Sydney, Australia*
Hong Kong
Tokyo, Japan
Seoul, South Korea
Shanghai, China
Singapore
*Accurate as of October 31, 2009. The Australian office closed in January 2010.