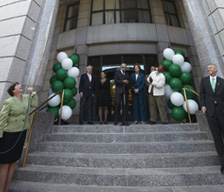 Unveiling of TD Bank sign at 1 Portland Square
Integration of TD Bank, America's Most Convenient Bank
Objective
To integrate TD Banknorth and Commerce Bank, incorporating our brand, culture and business model, and data conversion.
Description
The integration of Commerce Bank and TD Banknorth, a larger and more complex undertaking than any prior acquisition in TD Bank Financial Group history, was successfully completed on schedule – just over 18 months.
With a strong focus on customers, we met challenges with flair, creativity and a 24/7 work approach, successfully building an enduring platform and a competitive advantage. Throughout this labour-intensive integration program, which took place during a period of extreme turmoil in the financial marketplace, we continued to deliver strong business results, achieving a 50% deposit growth over our peers (five-year average).
Integration Highlights
The integration program included Commerce re-branding and launch of new products, migration of TD Banknorth customers to new products, TD Banknorth re-branding, and conversion of Commerce legacy customers to a new platform.
A set of Guiding Principles and Integration Objectives guided our governance and decision making throughout the entire process.
We established a constant feedback loop, giving us the ability to adjust on a daily basis to our customers' concerns and needs.
Human Resources (HR) teams worked to ensure that employees were supported through the transition and kept informed of HR initiatives impacting them.
Meeting Challenges
In September 2009, we migrated 1,028 stores to the TD Bank, America's Most Convenient Bank brand and a single operating platform.
During the first few days after systems integration, problems arose with overnight processing.
When issues emerged, it was "all hands on deck," as employees worked around the clock to resolve problems and make things right for our customers