Canada
Increased funding in 2009
TD is one of Canada's top corporate donors. Over the past five years, we have donated more than $150 million to not-for-profits across the country. In addition, our employees and customers raise a significant amount through donations and fundraising activities.
In Canada
TD corporate donations =
$37 million
Employee donations and fundraising =
$9.5+ million
Customer donations =
$4.7 million
Total impact =
$51.2+ million
Through our Volunteer Grant Program, employees who volunteer more than 40 hours a year to a registered charity can earn a $500 grant for the organization. Through this program, TD gave more than $336,000 to organizations in 2009, exceeding our goal of $300,000.
In Canada, we have three areas of focus for charitable giving:
Literacy and Education
Children's Health
The Environment
In 2009, 49% of our community giving was applied to these three areas of focus. We are moving closer to our target of 50%.
% of Donations applied to Areas of Focus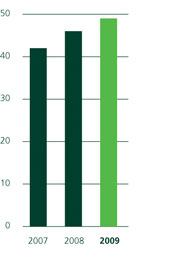 We also commit a minimum of 10% of our community program to support diversity initiatives (13% in 2009).
2009 Community Giving in Canada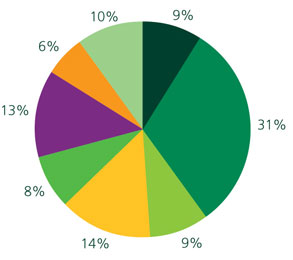 • Children's health
• Education & Literacy
• Environment
• Arts & Culture
• United Way
• Civic & Community
• Hospitals
• Other