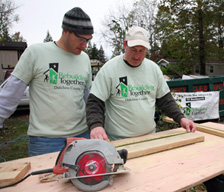 Reinvesting in Our U.S. Communities
TD Bank has a strong history of serving the needs of the communities in which it operates. Our goal is to be a community bank that is dedicated and responsive to its local markets.
In 2008, TD Bank received an "Outstanding" Community Reinvestment Act (CRA) performance rating from the Office of the Comptroller of the Currency (OCC). The "Outstanding" rating reflects our commitment to meeting the financial service needs of low- and moderate-income individuals and neighbourhoods and small businesses.
During a four-year period from 2004 through 2007, TD Bank:
Provided more than 21,000 mortgage loans totalling $2.0. billion to low- and moderate-income individuals;
Financed more than 59,000 small business loans totalling $8.2 billion;
Financed 261 community development loans totalling $424 million (145 of these loans provided $318 million in support of affordable housing projects);
Donated a total of $19.5 million in CRA-qualified grants via the TD Charitable Foundation; and
Provided $328 million in CRA-qualified investments, of which $119 million funded low-income housing tax credit projects
TD Bank is fully committed to the principles of fair lending and granting credit without regard to race, colour, religion, national origin, ancestry, gender, sexual orientation, age, marital status, civil union status, disability, genetic information, receipt of public assistance, exercise of rights under consumer protection laws, familial status, handicapping condition or any other basis protected by law. We are committed to the spirit and letter of federal and state fair lending laws designed to promote fair and equal access to credit. In conformance with OCC regulatory guidance, we also strive to protect our customers from predatory lending practices by ensuring that terms and conditions are fairly disclosed and that fees and rates are reasonable and appropriate.