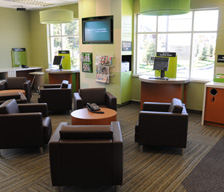 Customer Protection
Providing a safe and secure banking experience and protecting privacy at all times
We offer financial products and services to many different types of customers and clients: personal and small business customers, corporate and commercial clients, governments and institutions.
We strive to provide our customers with a safe and secure banking experience and to protect and respect their privacy at all times. We do this through compliance with external regulations, as well as through a range of internal policies, including:
Codes of Conduct;
Respect for Privacy;
Information Security and Fraud Protection; and
Anti-Money Laundering and Anti-Terrorist Financing.
Codes of Conduct
TD abides by several industry-leading codes of conduct and public commitments designed to safeguard consumer interests. Learn more about our Codes of Conduct and Public Commitments.
In addition, all TD employees must comply with TD's Codes of Conduct and Ethics, which defines organizational expectations and the way we do business. Certain businesses also have supplementary codes of conduct and policies that apply to their employees.
Our compliance courses cover various topics related to consumer protection and responsible business conduct (see chart below). Successful completion is monitored and mandated. Additional training, job aids, meeting planners and other learning tools are also made available to retail branch employees to help ensure awareness of and compliance with consumer protection measures, including anti-corruption policies and procedures.
Key Compliance Training Programs
Completed by:
In Canada
Consumer Protection
Employees in relevant job functions
Privacy
All
Information Technology Security Awareness
All
Anti-Money Laundering
All
In U.S.
Privacy and Information Security
All
Compliance
All
Bank Secrecy Act / Anti-Money Laundering
All
TD Codes of Conducts and Ethics
All new hires
Avoiding Sexual Harassment
All
Ethics for Bankers
All
Community Reinvestment
Employees in relevant job functions
Fair Lending
Employees in relevant job functions
Information Asset Protection Fundamentals
Employees in relevant job functions
Read more about our Codes of Conduct and Ethics.
Respect for Privacy
TD has privacy policies and practices in place across our global operations, and we respect all applicable privacy laws in countries where we do business. Examples include the Personal Information Protection and Electronic Documents Act in Canada and the Gramm-Leach-Bliley Act in the U.S. In 2009, we addressed five complaints (up from 2 in 2008) as the Office of the Privacy Commissioner of Canada (OPCC) increased efforts to close old files.
| | | |
| --- | --- | --- |
| Substantiated Privacy Complaints1 | 2008 | 2009 |
| Privacy complaints made by customers in which the OPCC ruled in favour of the customer | 2 | 5 |
| Reports voluntarily made by TD to the OPCC regarding customer data | 2 | 2 |
1
Canada only.
Information Security and Fraud Protection
TD has a dedicated team of security and fraud-management professionals who develop and oversee security standards to protect our systems and our customer information against unauthorized access and use. They continually assess our security programs to ensure they are robust and reflect global trends and standards.
Safeguarding our customers' information is TD's utmost priority. To give customers and clients extra security:
We communicate tips against identity theft, e-mail scams and other fraud risks;
We provide protective metal shields at our ATMs to help hide PIN information;
We guarantee 100% reimbursement for losses from unauthorized online banking/brokerage activity; and
We added chip technology to our debit cards, which increases protection against counterfeiting and skimming fraud as the encrypted data is virtually impossible to copy.
Anti-Money Laundering and Anti-Terrorist Financing
To combat money laundering and terrorist financing, TD has robust policies and programs in place, including tracking tools to monitor suspicious transaction activity. We continually update our deterrence and detection infrastructure and train employees in compliance controls so that we stay ahead of these sophisticated crimes.