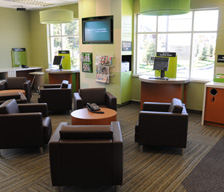 Customer Protection
Providing a safe and secure banking experience and protecting privacy at all times
We offer financial products and services to many different types of customers and clients: personal and small business customers, corporate and commercial clients, governments and institutions.
We strive to provide our customers with a safe and secure banking experience and to protect and respect their privacy at all times. We do this through compliance with external regulations, as well as through a range of internal policies, including:
Codes of Conduct;
Respect for Privacy;
Information Security and Fraud Protection; and
Anti-Money Laundering and Anti-Terrorist Financing.
Codes of Conduct
TD abides by several industry-leading codes of conduct and public commitments designed to safeguard consumer interests. Learn more about our Codes of Conduct and Public Commitments.
In addition, all TD employees must comply with TD's Codes of Conduct and Ethics, which defines organizational expectations and the way we do business. Certain businesses also have supplementary codes of conduct and policies that apply to their employees.
Our compliance courses cover various topics related to consumer protection and responsible business conduct (see chart below). Successful completion is monitored and mandated. Additional training, job aids, meeting planners and other learning tools are also made available to retail branch employees to help ensure awareness of and compliance with consumer protection measures, including anti-corruption policies and procedures.
Key Compliance Training Programs
Completed by:
In Canada
Consumer Protection
Employees in relevant job functions
Privacy
All
Information Technology Security Awareness
All
Anti-Money Laundering
All
In U.S.
Privacy and Information Security
All
Compliance
All
Bank Secrecy Act / Anti-Money Laundering
All
TD Codes of Conducts and Ethics
All new hires
Avoiding Sexual Harassment
All
Ethics for Bankers
All
Community Reinvestment
Employees in relevant job functions
Fai