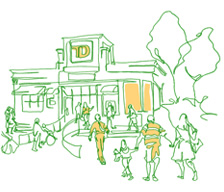 Meeting Diverse Needs
Our diverse client base reflects the characteristics of the more than 2,500 communities and business centres in which we operate. We want to be the better bank by being relevant to all of them.
In 2009 we worked hard to address the financial needs of our diverse customer segments with tailored offers and marketing communications.
Across our operations we are working to deliver services, products and communications in a host of languages. Currently customers can speak to us in French, Mandarin, Cantonese, Punjabi, Portuguese, German, Russian, Greek and Spanish.
Wealth Management provided financial planning information for customers and clients who are in same-sex relationships.
TD was named Best Investment Adviser/Firm and Best Bank by Xtra.ca readers in Toronto. (Xtra.ca is a website for gay and lesbian news.)
TD Waterhouse Discount Brokerage ran a Chinese advertising campaign through the popular TV station Fairchild. "Research has shown that regardless of their English proficiency, Chinese clients prefer marketing materials in their own language. We also felt it was important that we create ads that are tailored to the community rather than translate existing commercials," says Alfred Chung, Senior Manager of Asian Services, TD Waterhouse.
Our extensive employee diversity program is aimed at increasing the diversity of our workforce so that we can better understand and reflect the needs of our customers. Similarly our community outreach program in support of diversity is extensive. In Canada, we donated over $5 million to support more than 175 diversity-related community organizations.
With the help of our Aboriginal employees and through community programs, we are working hard to gain the trust of our Aboriginal customers in Canada and to better understand their needs.
In 2009, we established a cross-business advisory group to promote understanding and awareness of working with Aboriginal customers and clients.
The TD Aboriginal Trust Services team serves the needs of Canada's Aboriginal communities, helping them establish and manage trusts to protect settlement income and resource revenues with a view to securing their prosperity and preserving cultural values.