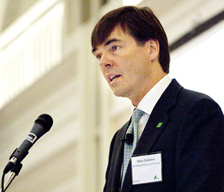 Mike Pedersen speaking at the Commercial Building Retrofit Summit
Environmental Dialogue and Research
Environmental thought leadership
TD is an active contributor to environmental thought leadership, research and public policy dialogue. We encourage active engagement with environmental non-governmental organizations (ENGOs).
We are working to understand the impact of a carbon-constrained economy on our business, which involves the assessment of potential regulatory risk relating to greenhouse gas emissions. To improve our understanding and contribute to the public dialogue, our business leaders participated in multi-stakeholder forums and developed research relating to carbon regulation.
Examples include:
Greening Greater Toronto
Mike Pedersen, TD's Group Head of Corporate Operations, co-chaired the Greening Greater Toronto Task Force. Its aim is to make the Greater Toronto Area the greenest city region in North America. Its four initial programs include driving a large-scale retrofit of GTA commercial buildings, sponsoring the creation of the Greening Canada Fund, developing a green procurement initiative and building a network of public education/demonstration centres.
Carbon Disclosure Project (CDP)
TD has participated in the disclosure of carbon information for a number of years. In 2009 we were identified as a Climate Leader in the Canadian CDP.
Canadian Boreal Information
TD sponsored the development of the DATA BASIN, which is a definitive online data source concerning the boreal forest that connects a network of scientists, practitioners and stakeholders.
Free Prior Informed Consent (FPIC)
Our Chief Environment Officer, Karen Clarke-Whistler, participated in a number of forums designed to advance the debate on FPIC. Our focus was working with interested and affected stakeholders to develop consistent, practical and transparent operational guidance.
TD Economics also produced research on economic opportunities for Aboriginal Peoples.
Research Network for Business Sustainability – Leadership Council
TD is an active member of this industry/academic network that funds evidence-based research on topics of interest to business managers and policy makers. In 2009 the network published a report on Business Adaptation to Climate Change and Socially Conscious Consumers.
TD also participates in a number of industry associations and multi-stakeholder initiatives relating to the environment.
TD Economics sponsored the third report in a series on impacts of carbon regulation. The third report, published in October 2009 and conducted by the Pembina Institute and the David Suzuki Foundation based on modelling studies undertaken by M.K. Jaccard and Associates, assessed the economic impacts of carbon regulation, including a regional analysis. This was the first study of its kind in Canada. TD Economics provided commentary on the report findings.
World Wildlife Fund Canada (WWF - Canada) hosted their Annual Conference in September 2009. TD was the major sponsor of the event, titled "The Business of Climate Change". Craig Alexander, TD's Deputy Chief Economist participated in a panel discussion about the road to Copenhagen (COP-15).