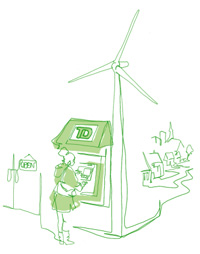 Reducing Our Operational Footprint
We're getting our own house in order
The initial focus of our environmental program is to reduce our operational footprint. We cannot credibly advise others if we don't first get our own house in order.
Our house is pretty big – and it's growing. Here's what it takes to service approximately 18 million customers and 4.5 million registered Web clients:
the purchase of services and supplies to support over 74,000 employees;
operation of a real estate portfolio consisting of more than 2,500 properties, including retail branches and stores, corporate facilities and call centres;
an ATM network of 4,214 machines;
a corporate fleet of 850 vehicles; and
one of North America's largest and most advanced technology systems, including two primary data centres, six secondary data centres and nearly 84,000 personal computers.
We're tackling management of our operational footprint through:
energy efficiency initiatives including green building design and operation;
using more renewable energy; and
our environmental procurement program.