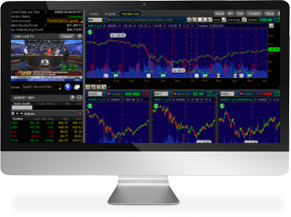 Try thinkorswim
powered by TD Ameritrade
Experience professional-level trading tools created
for savvy traders of U.S. equities and advanced
options strategies.
Get started with thinkorswim today!
Our advanced thinkorswim platform provides savvy investors with the tools and resources needed to trade U.S. equities and options, including:
Streaming U.S. market data
Powerful charting packages
Advanced order management
Sophisticated options analytical tools
Integrated trader community and interactive chatting
Test your strategies in your paperMoney® practice account
Plus, thinkorswim is available on your desktop and on your mobile device — allowing you to trade your way whenever you want to.
NOTE: thinkorswim is currently available for U.S. margin accounts only.
thinkorswim Desktop Software
Make advanced options trades with a powerful and completely customizable platform. You get advanced charting, portfolio analytics, trading ideas, and educational resources in one convenient location, using our desktop software.
Sophisticated order management. Order bracketing, "one cancels other" (OCO), contingent orders and Active Trading Ladders allow you to enter orders in a split second.
Complex option trades.Trade complex options strategies in a single click. Change the layout to see the theoretical price against the mark, or see the implied volatility or theoretical probability of an option hitting the strike or expiring in the money.
Idea generation. Take advantage of comprehensive charting packages and premium data mining tools that alert you when specific stocks are on the move.
thinkorswim Mobile
Place trades on U.S. stocks and advanced options strategies, analyze opportunities using customizable charts, and test your strategies with real market data — all from your mobile device.
Advanced trading functions. Trade U.S. stocks and multi-leg options spreads in real-time.
Live market news. Keep an ear tuned into the market with streaming CNBC Plus TV and more.
paperMoney® feature. Use real market data to test your theories and strategies without risking any money.
Frequently asked questions