Creating Opportunities for Young People
Creating Opportunities for Young People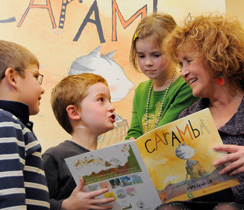 Young people are our future, and at TD, we believe that every young person should have the opportunities and support they need to reach their full potential. These are difficult economic times for many young people in our society – making it even more imperative for companies like ours to play a role by funding and ensuring access to quality youth programming.
A positive future for young people is interlinked with their learning and skills development, whether through reading, music, arts or theatre. These opportunities feed children's imaginations and contribute to their quality of life.
Our objectives in this area are to:
Promote children's literacy – a critical foundation for future success.
Support young people from diverse and underserved communities.
Help youth access and contribute to arts and culture.
Key Programs We Support
Summer Reading Programs
Each summer, we sponsor programs at libraries across North America to engage kids in reading while they are out of school. In Canada, the TD Summer Reading Club reaches almost 700,000 children every year, and is a joint initiative with Toronto Public Library and Library and Archives Canada. In the U.S., our TD Bank Summer Reading Program encourages reading while teaching the importance of saving money; and we deposit $10 into a new or existing Young Saver account for each child who reads 10 or more books during the summer.

TD Reads
TD Reads is a comprehensive resource for parents and teachers looking for information and tools to help young children get excited about reading – from award-winning books for kids to literacy activities and free worksheets.

Donating Books to Kids
TD supports First Book, a not-for-profit dedicated to providing new books for children in need throughout the U.S. and Canada. Additionally, since 2000, TD and the Canadian Children's Book Centre (CCBC) have teamed up every year to distribute more than half a million books to Canada's grade one students. It's the largest distribution of free books in the country.

Right to Read
TD is a long-time supporter of the Right to Read program in the U.K., where TD employees volunteer at schools in Leeds and Manchester to help children improve reading and social skills.

Duke of Edinburgh's Award
The Duke of Edinburgh's Award is a program that helps young people aged 14-25 develop positive skills and habits through hands-on adventures and challenges. TD is the program's largest corporate sponsor in Canada. Our funding supports local field officers in eight of Canada's largest cities, who focus on reaching out to disadvantaged youth to participate in the program

Mentoring
We participate in a host of mentoring programs – kids.now (Canada), Big Brothers Big Sisters (North America) and Leeds and Manchester Mentoring (U.K.). TD employees volunteer as mentors, providing young people with encouragement, guidance, confidence and an opportunity to gain a positive role model.

Access to Performing Arts
TD underwrites admission costs for youth so they can attend a variety of performing arts productions at a discounted cost. Examples include Opera Under 30 through the Canadian Opera Company and the cpossibilities program through the Calgary Philharmonic Orchestra.

The Remix Project
The Remix Project was created to help level the playing field for young people from disadvantaged, marginalized and underserved communities. Based in Toronto, Canada, its programs serve youth who are trying to build careers in creative fields like music, the arts and photography. TD has invested over $450 000 to help the Remix Project thrive.