Female executives at TD have been celebrated among some of the most exceptional and influential women in North America. Through TD's Women in Leadership network, comprised of more than 5,000 women across Canada and the U.S., we are driving development by connecting, encouraging and mentoring each other.
Gain exposure to inspiring senior leaders and see what's possible at TD. Bring your talent and perspective, and help us build a brighter future together.
---

---
Where confidence and capability meet opportunity
We view diversity and inclusion as strategic priorities. For us, expanding leadership opportunities for women is essential in order to develop great leaders and advance our business. At TD, women have access to valuable learning experiences, ongoing support for career goals and a powerful network of like-minded colleagues.
The continued success of our business allows for a wide variety of career paths and advancement opportunities. Mutual respect, encouragement and world-class training are all part of our progressive culture. We'll help you take ownership of your career, showcase your talents and achieve your full potential.
---
How to Find Your Ideal Advisor Match
Picking the right financial advisor is no walk in the park. We share some tips to help you find a financial advisor for the long run.
---
Women & Behavioural Finance: Women can have a natural advantage for financial planning success
According to a recent TD Wealth study1, Canadian women are significantly more Conscientious than men (as defined by the Five Factor Model of Personality2), which can be an advantage when it comes to financial planning and investing. Despite this distinctive advantage, there are also research studies that show some women may not be as financially confident as they should be, but do want to learn more about financial planning and get more involved in their finances.
Read the Article (flip book version)
Read the Article (printable version)
1TD Wealth Behavioural Finance Report, 2018 2Tupes, E.C & Christal, R.E., Recurrent Personality Factors Based on Trait Ratings. Technical Report ASD-TD-61-97, Lackland Air Force Base, TX: Personnel Laboratory, Air Force Systems Command, 1961
---
Preparing for the future: Why women need to invest in financial literacy
As women are increasingly taking charge of household finances and planning ahead for retirement, having strong financial literacy is more important than ever. In 2017, TD Wealth surveyed over 1,600 affluent Canadians online to learn more about their investment behaviours, and analyze their financial literacy. In this article, we focus on financial literacy among women and its implications on financial savings. Download the PDF.
---
Women in Leadership Community Blog Book
The Women in Leadership Community Blog Book is filled with fantastic insight from leaders from across TD Bank. Get information and advice on a wide variety of issues including: career development and mobility, work life balance, working parents, and men as champions.
Download the pdf >
---
10 Lessons - Women @ Work Managing Intersections of Career, Family & Legacy
In support of TD's objectives to support the advancement of women, TD partnered with The University of Toronto's Rotman School of Management to compile and share insight and personal stories from Canadian women about advancing their career, life and legacy aspirations. Our hope is that by sharing these perspectives, we can influence change, inspire a more positive dialogue and contribute to the advancement of women.
Read the report >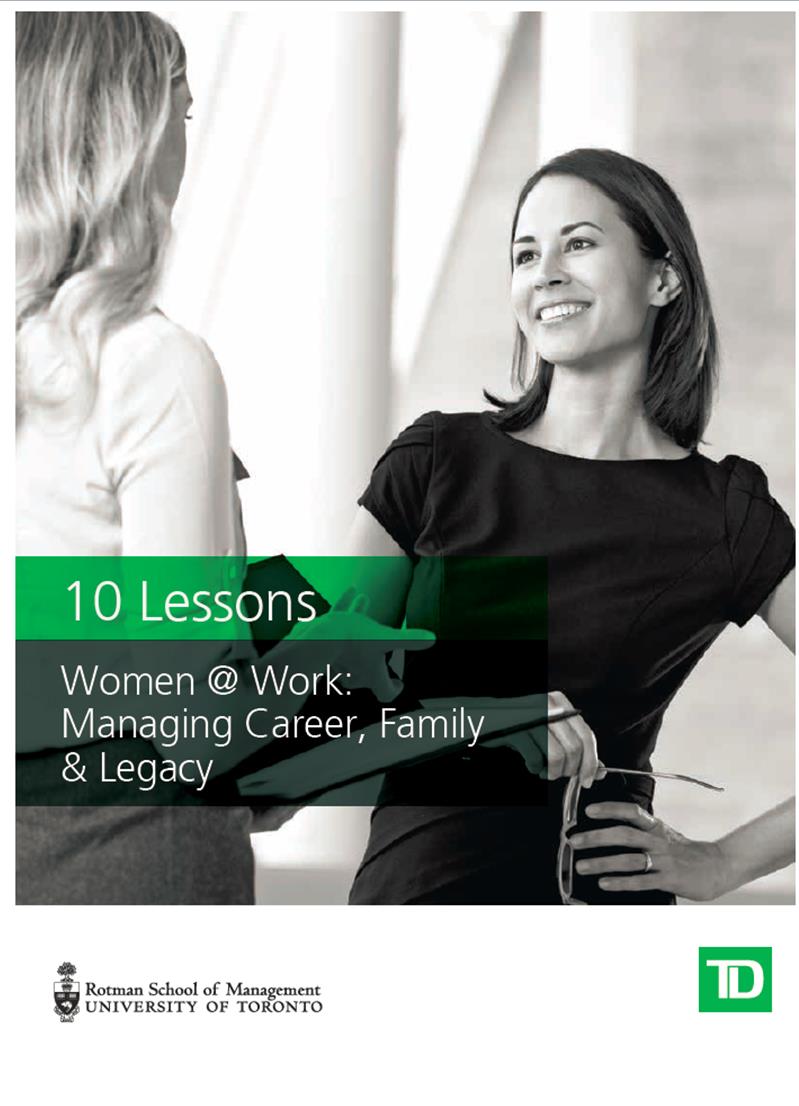 ---

---
We're contributing to the community.
We strongly believe in giving back, which is why we sponsor development programs for women and support organizations that make a difference. It feels good knowing that the work we do has a positive effect on the lives of our customers. TD will empower you to apply your expertise to drive change in the community. We all have things that we are passionate about. At TD we value and support our people to contribute in alignment with their passions.
---