Green Banking
Green Banking
Our customers want TD to be both a strong environmental steward and provide price-competitive green product options.
Our research shows that 60 per cent of consumers will select green product options if they are financially competitive. TD's Green Banking web page helps Canadian customers find environmentally responsible products and services that we offer, such as:
Renewable energy financing, to purchase items such as solar panels
Online statements and paperless record-keeping
Electronic banking options such as ATMs and, telephone and mobile banking
Financing and insurance of electric and hybrid vehicles
eBanking Options
TD has been a leader in online banking for a number of years, with offerings that include:
Mobile banking
Access to day-to-day account activity and online statements
Money-market statements (TD Bank)
Trade confirmations and tax slips (TD Wealth)
When asked how TD could improve its environmental performance, customers across North America raised "reduction of paper" as the leading issue. As a result, we are working aggressively to reduce our paper volume.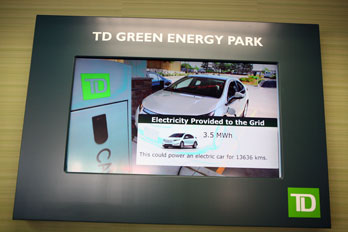 In 2015, we installed courtesy electric vehicle (EV) charging stations at seven locations in British Columbia, bringing our North American total to 18 by the end of 2015.