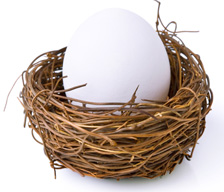 New Defined Benefit Pension Plan
Objectives
To attract and retain employees through our retirement offerings, by ensuring that every eligible TD employee in Canada can receive a pension from TD at no cost to them.
Description
Although many companies are converting pension plans to defined contribution, in the spring of 2009, TD launched a new industry-leading defined benefit pension plan for Canadian employees.
A defined benefit pension plan provides employees with the security of a regular retirement income. The new plan was designed to be the best fully bank-paid pension plan in the industry for employees with regular earnings below the Canada/Quebec Pension Plan (C/QPP) maximum pensionable earnings ($47,200 in 2010). It also provides an optional top-up, so employees can earn a competitive pension on their salary above the C/QPP limit at a very affordable cost.
When the new plan was introduced, employees had the opportunity to make a fully informed choice between the current plan and the new plan, using a variety of simple and easy tools:
A professionally designed magazine comparing the two pension plans and their features;
An online pension projection tool to estimate the annual pension at various retirement ages, including estimates of how much the pension would increase by joining the top-up or tax-sheltering more money through a Pension Enhancement Account;
Tools for managers, including online webcasts, posters and checklists; and
A full-service call centre to answer questions about the new plan.
Impact
For an employee who makes no contribution, the new plan provides a pension of 1.4% of salary approaching retirement for each year of plan membership, up to the C/QPP maximum pensionable earnings.
Members in the top-up can also earn an additional pension of 2.0% on the portion of their salary above the C/QPP maximum for each year of plan membership – at the lowest contribution rate of any major Canadian bank.
Employees who have a salary below the C/QPP maximum and participate in the fully bank-paid pension only will enjoy a total pension (when combined with C/QPP) of 80% to 94% of their final average salary if they work at TD for 35 years.
A total of 23,000 employees (Canada only) enrolled in the new pension plan – 7,000 by choice and 16,000 by automatic enrolment.
Comments
"I was able to develop a retirement plan that best suits my lifestyle and my family's needs. The best part is the tools give me a combined overview of my pension and other retirement savings so it's easy to see how I'm progressing towards my goals."
Toni Rico-Guatieri, Customer Relations Coordinator, TD Canada Trust