U.S.
Responding to Our Communities
In the U.S. (in USD)
TD Charitable Foundation =
$13.9 million
Community sponsorships =
$5.4 million
Employee donations =
$700 thousand
Total impact =
$20 million
The TD Charitable Foundation serves individuals, families and businesses in the communities where TD Bank operates. The Foundation has donated more than $53 million to charitable organizations in the U.S. since its inception in 2002.
We strengthened our efforts in 2009, awarding 1,518 grants totalling $13.9 million. We provided an additional $5.4 million through community sponsorships and $700,000 through employee contributions.
To make a meaningful difference we concentrate our giving on three main areas:
Affordable Housing
Education and Financial Literacy
Health and Human Services
We place special emphasis on improving the well-being of low- to moderate-income individuals and communities. In 2009, in excess of 50% of our U.S. Foundation giving focused on these three areas.
2009 Community Giving in U.S.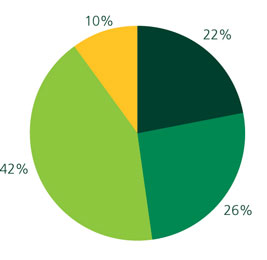 • Affordable housing
• Education and financial literacy
• Health and human services
• Other