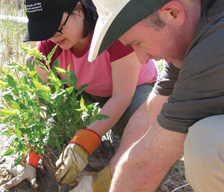 Employee Participation
Our employees are our strongest environmental advocates
Many of TD's internal environmental initiatives have developed as grassroots movements responding to our employees' own enthusiasm for protecting the environment. In addition to specific training for key individuals, we regularly communicate to employees about environmental issues and continue to develop resources to help educate them about our progress in implementing our Environmental Management Framework.
TD was named one of Canada's Greenest Employers
(Mediacorp Canada)
These are a few of our employee initiatives:
Green Coordinators and Green Teams
Operating from within our business, Green Teams are perfectly positioned to recognize inefficiencies in our processes and policies. We currently have approximately 1,100 Green Coordinators in our Canadian branches and 60 Green Team Leaders across our corporate operations.
New Environment Intranet Site
In 2009, we recognized a need to raise awareness of environmental issues among our employee population. We launched an interactive site to provide information and extend our Green Team network.
Making a Difference Together newsletter
Published by TD Waterhouse UK, this newsletter updates employees on the bank's environmental achievements and provides practical tips for being green both in the workplace and at home.
TTC Passes
TD employees in Toronto have access to a discounted public transit pass. In calendar 2009, approximately 2,350 employees took advantage of this program on a monthly basis. In 2010, TD will sponsor a similar program to promote public transit in Vancouver.
Earth Day/Earth Hour
On 2009's Earth Day, April 22, more than 1,100 TD employees participated in the One Million Acts of Green (OMAoG) initiative, making us the largest corporate group on the OMAoG site. Branch employees wore 100% organic TD Friends of the Environment Foundation (TD FEF) T-shirts and encouraged customers to donate to TD FEF. As an added bonus, we gave away 500,000 TD FEF-branded reusable shopping bags.
TD Employees In the Community
TD undertakes a wide range of environmental activities and projects through community giving, partnerships and volunteering. Our Friends of the Environment Foundation is in its 19th year and has contributed more than $50 million to community-based environmental projects during this per