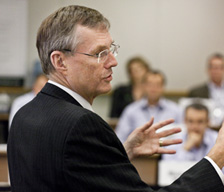 Ed Clark shares his perspective on leadership during a Q&A session at Build For The Future.
Build For The Future Leadership Development Program
Objective
To support TD's growth strategy by developing our next generation of leaders.
Description
TD has worked closely with the Richard Ivey Business School, Ryerson University and Kiely Group to deliver customized learning programs for our executives. Build For The Future consists of two modules scheduled over a three-month period. Between modules, participants have an opportunity to apply their learning back in the workplace.
TD's senior executives assist in teaching the modules and share their knowledge and understanding of our business strategy. During the program, participants have multiple opportunities to ask questions directly to TD's most senior executives, including our CEO, Ed Clark, who attends in person. Ed shares his perspective on leadership and key lessons in his personal journey.
The program's objectives are to:
Emphasize the role of leaders to build talent for the future;
Better equip executives to develop the next generation of future TD leaders;
Increase commitment to creating an inclusive environment at TD; and
Establish a development culture.
Impact
Since 2008, over 400 executives have completed the program. Using a scale from 1 (poor) to 7 (excellent), all participants rated Build For The Future with 5, 6, and 7.
Comments
Comments about the course:
"I learned not only about TD but also about how I can improve as a leader, and there is always room for that. I also appreciate the expectations that TD sets for its leaders."
"Excellent course. I am going back energized, committed to developing people more than ever. Will absolutely spread the knowledge to people around and below me. Very insightful."
"Very practical, linking human psychology, practice and theory to form a highly impactful presentation which is extremely beneficial to me as a leader."
"I am interested in coming up with a people strategy to go with my business strategy."