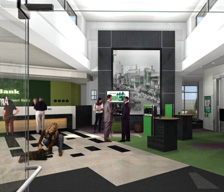 In Queen's Village, New York, building began on a new green store (architect's rendering above) that includes solar panels and high-efficiency heating and cooling and makes extensive use of natural light.
Operational Footprint – Green Buildings
Objective
To review our current building design standards in order to reduce energy consumption.
Description
TD designed and launched several pilot projects in 2009 to green our buildings in Canada and the U.S. We will assess the results from these projects to determine the feasibility of rolling out green buildings enterprise-wide.
For employees, education about green building design and operations remains a priority. To achieve this goal, in 2010 we will establish new staff training and accreditation standards.
Impact
LEED
TD Bank has adopted The Leadership in Energy and Environmental Design (LEED) Green Building Rating System, developed by the U.S. Green Building Council (USGBC), as the standard for environmentally sustainable construction.
In 2009:
In the U.S., we began construction of two LEED gold stores, which will use 40% less energy than our current stores, and that cost 15% less to build;
We completed construction of our first LEED-Certified corporate space;
We began design of a LEED-Gold call centre; and
In Canada, we began construction of one LEED-Silver and one LEED-Gold branch.
Pilot in London, Ontario, Canada
The rooftop solar array, (14.28 KW system) is capable of generating close to 75% of the branch's electricity peak summer demand. Ice storage technology generates and stores building cooling during off-peak hours resulting in significant cost savings.
U.S. Retail Prototype – Queens Village, New York
This store as designed will be 54% more efficient than building code requires. CO2 emissions will decrease by 50% as well. The store's solar panels alone will avoid an estimated 10.25 ton