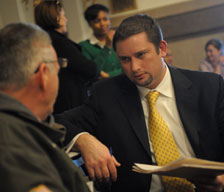 Annual Housing For Everyone Grant Competition
Objective
In the U.S., the TD Charitable Foundation's Housing For Everyone grant competition awards funding for projects and initiatives that help create, rehabilitate or maintain safe, affordable housing for thousands of people in local communities. In 2009, a total of $2 million was awarded to 56 not-for-profits in 12 states,
Description:
Philadelphia VIP (Volunteers for the Indigent Program) was one of the two not-for-profits that received $100,000 awards. Philadelphia VIP works to keep low-income homeowners in their homes by securing pro bono legal representation for clients facing homelessness and foreclosure through its LawWorks program. VIP's $100,000 Housing For Everyone grand prize award supports Philly FReE, a nationally recognized program that recruits and trains volunteer attorneys to represent homeowners who are engaged by the Foreclosure Diversion Program and provides support throughout the foreclosure process.
Impact
In 2009, VIP recruited and trained more than 160 new volunteer attorneys, who provided representation in 645 foreclosure cases.
With the skills of a VIP volunteer attorney, more than 70% of VIP clients are able to remain in their homes despite being on the brink of foreclosure.
Comments
"TD Bank is committed to improving our city and keeping people in their homes. They understand that the benefits of home ownership for low-income people transcend the individual and help our entire community. We are truly grateful for their investment in our work."
Sara Woods, Executive Director, Philadelphia VIP