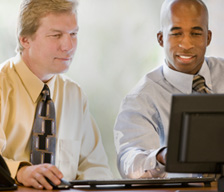 Small Business Webinars
Objective
To support our small and mid-sized business customers and clients, TD developed a series of small business webinars.
Description
The small business webinars were an effective forum for TD to provide practical advice and strategies for better business management on topics such as:
Impact
As awareness built, interest in the webinars grew. By the third one, registration increased to 3,700, with more than 1,260 attending the live event.
Post-event analysis shows that viewers found the webinars engaging:
Approximately 70% of live viewers stayed for the entire presentation – above the industry norm.
More than half of the attendees stayed to the end for the live Q&A session that followed the video presentation.
Approximately 700 live viewers participated in a survey:

97% said that they'd found the webinar useful;
98% expressed interest in upcoming webinars; and
27% indicating they'd consider contacting a TD Small Business Advisor.
In September, we also launched a new TD Small Business Banking web page that features links to all of our past webinars and presents a list of our upcoming topics.