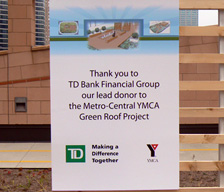 Building new community partnerships
Building New Community Partnerships
We look for opportunities to deepen relationships with our communities by engaging with new not-for-profit groups whose aims align with our community and business interests.
An example is our 2009 donation of $50,000 to the REMix project in the Greater Toronto Area. A program that acts as an arts incubator for youth in Toronto to inspire kids to start careers in the urban arts sector by developing plans for success.
We extended our support for programs that give young people affordable opportunities to experience the arts in Canada and help arts communities build future audiences. We supported the Art Gallery of Calgary's school outreach program to bring Kindergarten to Grade 12 students to the gallery to learn about contemporary Canadian art.
We also supported the Calgary Philharmonic's program to offer discounted tickets to young adults.
As we build partnerships with various community organizations, we are interested in understanding the impact of our funding. We are learning to be sensitive to the resource constraints of the groups that we work with and look for ways to measure the impact of our donations without making it too onerous a task or moving resources away from their main mission.
In 2009, we took the opportunity to share a successful mentoring model from one organization based in Toronto to be adopted by other organizations across Canada. Read more about the National Mentoring Initiative.