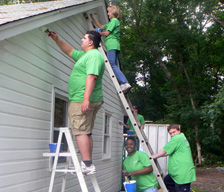 Affordable Housing
The economic upheaval resulting from the 2009 recession compounded problems faced by millions of Americans who have difficulty gaining access to safe, affordable housing.
Investing in Our Communities
During the past three years, TD Bank has made 150 community development loans to help address affordable housing in the communities we serve. These loans represent over $340 million in funding, which helped build almost 3,000 new homes or apartments. Since, January 1, 2009, TD Bank has also invested almost $140 million in low-income housing tax credits to support 25 housing projects.
The TD Charitable Foundation has invested nearly $10 million in the last three years to create, rehabilitate or maintain affordable housing for thousands of people in local communities.
In 2009, the Foundation dedicated $3 million to grants in support of not-for-profit organizations that have knowledge and awareness of local needs. These community-based organizations have the capability to develop, implement and maintain programs that increase access to affordable housing.
Housing for Everyone
The continuing housing crisis has intensified the issues of access to and preservation of affordable housing. Now more than ever, it is vital to protect and develop affordable housing and help individuals and families stay in their homes. The need for programs like Housing for Everyone has never been greater.
The 2009 Housing for Everyone Grant Competition awarded a total of $2 million to 56 not-for-profits in 12 states, a $500,000 increase in program awards from 2008. The awards went to not-for-profit projects that help families stay in their homes or help maintain and protect the integrity of neighbourhoods from deterioration caused by foreclosure and abandonment.
Here are some examples of affordable housing projects we supported in 2009.