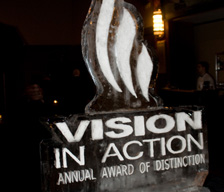 Reward and Recognition
Rewarding WOW! performance
TD's success depends on the tremendous efforts of our employees, and we continually examine how to best motivate and reward a diverse employee population. We've learned that engaging employees requires a variety of programs that cover key recognition elements such as successful performance and service milestones, as well as informal everyday recognition and celebration events. To acknowledge and celebrate individual and team success we have created more than 30 recognition programs. Here are a few examples:
The Vision in Action award is TD's highest honour. It's given to top employees around the world who exhibit all of our Guiding Principles. Recipients are invited to attend our Annual Meeting of Shareholders and receive spending money and a $500 donation to a charity of their choice. In 2009, 81 employees were Vision in Action recipients.
A unique aspect of working for TD is Employee Appreciation Week. In June, every business takes time to celebrate employees in ways that are meaningful to them, from complimentary breakfasts to excursions outside the work environment.
The WOW! Rewards program in the U.S. encourages managers and employees to "catch employees doing it right" and instantly salute great performance by presenting WOW! stickers on the spot or e-mailing an electronic version of the sticker. Employees are then able to collect and redeem their WOW! stickers for TD Bank branded merchandise.