Workforce Profile
In 2009, TD provided products, services and advice to our clients through 75,225 employees based in retail branches and stores, business centres, call centres and corporate facilities located across Canada, 14 U.S. states, and business locations in Europe and Asia Pacific.
2009 Global Workforce
Total 75,255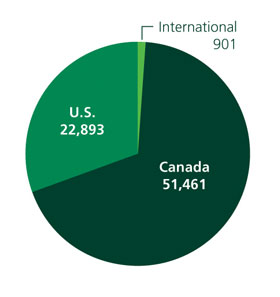 Employee Retention
During 2009, our employee numbers remained consistent. In Canada, we retained approximately nine out of 10 employees, TD's 2008 turnover rate was better than the 2008 benchmark for the Canadian Banking industry. (Source: Saratoga Human Capital Effectiveness Survey.)
In the U.S. we retained approximately seven out of 10 employees during 2009. The U.S. Banking industry typically has a higher turnover than in Canada. Despite all the integration activity in 2009, we're pleased that the voluntary turnover for TD Bank (17.8%) was lower than the U.S. industry benchmark of 18.9%.
2009 Turnover Rate (%)
• Canada • TD Bank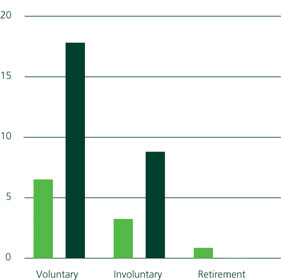 *Note: U.S. figures for voluntary turnover includes retirees.