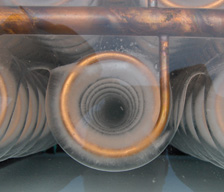 Ice Bear technology in London, Ontario: Large copper coils show how blocks of ice are frozen in tanks at night to cool the branch the next day
Green Building Design and Operation
Improving efficiency and environmental performance
In 2009, TD established an integrated North American real estate strategy to incorporate green design into our building design and operating standards. This will allow us to gain efficiencies by managing more than 2,500 properties on an enterprise-wide basis.
Green Building Design
In 2009, we opened another four LEED-certified facilities (Leadership in Energy and Environmental Design) and are continuing with LEED pilot programs for our data centre, call centres, existing buildings and commercial interiors. We are also developing a LEED platinum prototype for new stores in the U.S.
Buildings can qualify for four levels of certification (certified, silver, gold and platinum) depending on the amount and sophistication of environmentally sustainable construction techniques.
2009 Green Building Initiatives
Retail Branches/Stores
• Opened two LEED gold- and silver-certified branches (Canada)
• Initiated construction of two LEED gold-standard stores (U.S.)
• Developed retail prototype targeted to be LEED platinum (U.S.)
• Initiated LEED Existing Building (EB) pilot (Canada)
Data Centre
• Initiated design of LEED gold data centre (Canada)
Call Centres
• Initiated design of LEED gold call centre (U.S.)
Corporate
• Opened LEED Commercial Interiors (CI) certified corporate space (U.S.)
Training
• Provided LEED certification training and accreditation to real estate staff
<!-