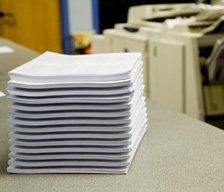 Procurement
We look for suppliers who share our environmental values
In 2009, we achieved our targets for recycled content and certified paper – one year ahead of schedule.
TD uses FSC-certified paper for all of its letterhead, business envelopes, business cards and copy/fax paper.
In 2009 our green office products offerings increased by 100% – from 500+ to 1,000+ items – allowing Canadian business lines more choices for environmentally preferable office supplies.
Targets
We aim to achieve a minimum post-consumer recycled content of 30% in copy, print and fax paper by 2010.
By 2010, certified paper (FSC, SFI, CSA) will represent 60% of all paper used.
Our Environmental Procurement Policy includes environmental criteria and performance standards that our suppliers must meet.
As part of a consortium facilitated by the Greening Greater Toronto initiative, our procurement group is cooperating with our Canadian banking peers to leverage our collective buying power. We are working directly with paper suppliers to increase the recycled content of bulk paper purchases.
In 2010 we will focus on greening our general office supplies by developing a "sustainability index" to support green office product spending and implementing a demand management system.
Green Products
Cumulative Performance
2008
2009
Green Product Offerings
500
1000+
% of Green Purchases
21%
18%