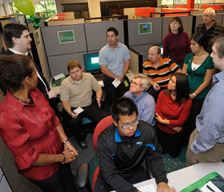 Employee Feedback
Focusing on what matters to our employees
When employees are truly engaged – satisfied, challenged, and appreciated – they will go the extra mile.
Measuring Employee Engagement
We track employee engagement through TD Pulse, a company-wide internal survey conducted twice a year and open to every employee in all countries of operation. On average, 85% of our global workforce participates in these surveys.
Employees give feedback on a range of topics about the organization, their team and their work environment. Managers are encouraged to solicit feedback and suggestions from their team and develop specific action plans on issues that are important to their employees.
TD EMPLOYEE ENGAGEMENT INDEX (EEI)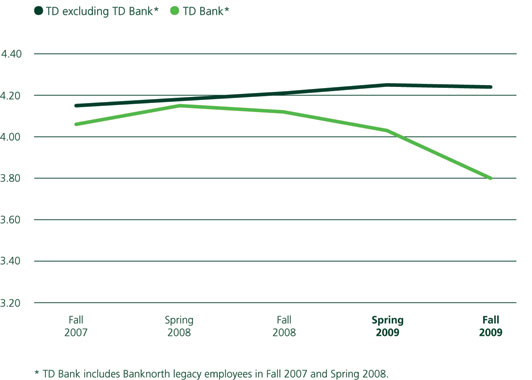 2009 TD Pulse Results:
The employee engagement score was 4.11 in fall 2009 vs. 4.18 in fall 2008. The year-over-year decline is primarily a result of U.S. integration activities. Excluding the U.S. business, where the impact of the integration was greatest, employee engagement was 4.24 in fall 2009 vs. 4.21 in fall 2008.
The experience of integration in TD Bank was stressful and demanding for our employees in the U.S. We are working hard to improve the employee experience in the U.S. and to continue on our journey to be globally recognized as a Best Employer.
In April 2008, in addition to launching TD Pulse in the U.S., we also created an Integration Pulse survey to gauge employee satisfaction. We wanted to know how employees were doing through all the integration activity. As of the end of September 2009, more than 18,000 employees had participated, offering in excess of 12,000 comments.
Building a better workplace
We asked all employees to tell us "two things TD could do to make this a better place to work."
Employees told us:
We responded:
Increase flexibility in our benefit plans to include wellness offerings...
We will add a Wellness Account to our 2011 Benefits Plan year to allow the use of Benefit Credits for wellness products and services.
Provide